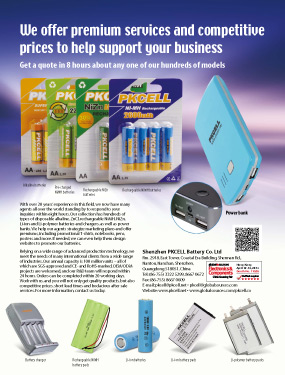 Share:




E-mail

Print

Bookmark
Shenzhen Pkcell Battery Co.Ltd

Follow me

18 high speed production lines with a 100 million units annually

6 Star China (mainland)

Credit Check - Supplier Credit Profile

provides impartial credit and vital business metrics for select suppliers on Global Sources Online. Using the Credit Check reports, buyers can easily compare key indicators and more efficiently manage risk. Suppliers with a Credit Check logo have agreed to allow this information to be reported to help buyers streamline the selection and due-diligence processes.

The supplier information below has been obtained from relevant government agencies in the supplier's country and is subjected to change without prior notice. Credit Check and verification procedures were conducted by Sinotrust, a third-party credit agency.
Read Disclaimer


Registered Address:
2918 East Tower Coast Times Apartment
Southeast Corner of Shennan Avenue and Qianhai Road Nantou
Nanshan District Shenzhen City
Guangdong Province China

Incorporation Date:
February 22, 2006
Legal Form:
Limited liability company
Company Status:
Live
Registration Agency:
Shenzhen Municipal Administration for Industry and Commerce
Registration Number:
440301103276136
Authorized Capital:
RMB 1,000,000
Paid-Up Capital:
RMB 1,000,000
Legal Representatives:
YI Li
Import & Export Licences Obtained:
Yes
Business Scope:
Technology development and sale of batteries and accessories; other domestic trade but excluding those specially controlled, managed or monopolized by the State; import and export, but no operation is allowed where forbidden by laws, regulations and the decisions of the State Council and no operation is allowed unless an approval has been obtained where applicable; ordinary cargo transportation; Road Transportation Permit expires on Mar. 6, 2015
Business Permit Expiry:
February 22, 2016
Shareholders:
• YI Li
• JIANG Zixiu




Want a more detailed Credit Report on this supplier?



Authenticated and verified by:
Sinotrust


On July 16, 2012

Contact Details




Shenzhen Pkcell Battery Co.Ltd
P.O. Box: 518051
29F, Coastal Era Building, No12069,
Shennan Road
Nanshan, ShenZhen
Shenzhen
Guangdong
China 518051
Tel: (86 755) 33225299 (86 755) 86670672
Fax: (86 755) 86670609 / (86 746) 8331700
Mobile: (86) 6788296


Homepage Address
http://www.globalsources.com/pkcell.co
Other Homepage Address
www.pkcell.net


Chat with supplier using:

Key Contact:
Ms Mini
Marketing Manager
Overseas Sales


Agents
Koalaty Products Inc
P.O. Box: gbloomquist@koalatyp
3814 Woodbury Drive, Austin,
Texas 78704 USA
usa
American Samoa


Supplier and product information updated May 23, 2013.
Verified Business Registration Details
Registered Company: 深圳市比苛电池有限公司
Business Registration Number: 440301103276136
Company Registration Address: 深圳市南山区南头深南大道与前海路东南角海岸时代公寓东座2918


* In some jurisdictions, company names and addresses are registered in Chinese only.